Why Sponsor or Exhibit at Cloud Slam?
Cloud Slam is the must attend event for anyone interested in learning about cloud computing and features hundreds of speakers from the industry, delivering insights about the power of cloud across diverse topics and verticals like bioinformatics, pharma, healthcare, business, and life sciences, service providers, hardware and software vendors, investment / financial institutions, business process and outsourcing providers, system integration / consulting companies.
Who attends Cloud Slam?
Attendees travel from more than 15 countries and comprise every profession within cloud computing, including developers, academic researchers and executive management.

We are growing
Cloud Slam is uniformly regarded as an essential resource for businessmen, scientists, engineers, researchers, developers, and IT managers, who come for the world-class education, the unrivalled peer-to-peer collaboration, and exposure to the most innovative products and solutions on the market today. As depicted in the numbers below, Cloud Slam continues to grow in importance year-over-year.
| | | | |
| --- | --- | --- | --- |
| Activity | 2009 | 2012 | Change (%) |
| Sessions | 20 | 48 | 145% |
| Attendees Onsite | 180 | 510 | 280% |
| Virtual Attendees | 340 | 18,000 | 5200% |
| Exhibitors | 11 | 46 | 400% |
| Sponsors | 2 | 18 | 900% |
Reach Influential People

Werner Vogels,
VP and CTO of Amazon.com.

Jeff Nick,
Senior VP and CTO of EMC.

Stephen Herrod,
Senior VP of R&D and CTO of VMware .
Cloud Slam attracts top professionals from Fortune 500 companies, premier academic institutions and influential government agencies, and highly regarded journalists from the mainstream press and niche publications.
Turnkey Exhibit Solutions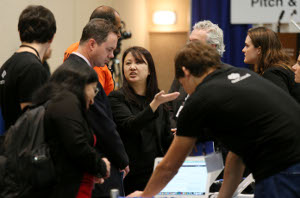 Exhibiting at Cloud Slam puts your company in front of key IT decision makers and senior developers and our turnkey solutions allow you to make the greatest impact. These include:
Fully furnished display including: table, chairs and waste basket
Shared WiFi Internet Connection
Literature Rack
Electrical drop
Drayage
Become A Sponsor/Exhibitor
Take advantage of the many options available to you to reach the influential Cloud Slam community. Sponsorship categories and desirable spaces on the show floor sell out fast. Contact us today and position your company as a leader at Cloud Slam and within the cloud computing industry.
Stay Connected
Announcements, changes and promotions. Get important updates about Cloud Slam. Sign Up
Educational Hub
Cloud Slam provides year-round, world-class education, news and insight for computational scientists, engineers, developers and IT managers. Stay sharp on all that you need to know to advance your career and company. Learn More